Durasteel® Fire Walls, Barriers and Partitions
Overview of Durasteel® Fire Walls, Barriers and Partitions
MRC Group is proud to supply, deliver and install Promats Durasteel® fire wall, barrier, and partition systems. The Durasteel® fire wall systems offer high dimensional stability with exceptional moisture resistance as well as being able to meet specified fire, acoustic, wind load, impact and blast performance requirements.
Fire walls are used in constructions where high insulation as well as stability is required during a fire. Promat Durasteel® insulated fire walls are designed to prevent the passage of heat from a fully developed fire on the exposed face. The maximum permitted temperature rise allowable on the surface of the unexposed face is 140°C as a mean temperature over all the surface, or a maximum temperature rise of 180°C at any one point over all the surface.
Insulated wall constructions should be used in areas where the following may occur:
Escaping personnel or fire fighters may have bodily contact with the wall surface.
If used as a wall lining to any escape route, for instance as an access tunnel within a factory.
If there are any volatile chemicals or materials stored within the vicinity of the fire wall and which may ignite at low temperatures.
There is a need to improve compartmentation beyond simple integrity.
The combination of Durasteels® internationally tested characteristics makes the fire barriers, partitions and walls ideal for use in the most demanding application areas including mining, gas & oil, industrial and commercial,  providing up to 4 hours fire resistance
All of Durasteels® fire barrier, partition and wall systems have been tested to both fire and impact resistance in accordance with international standards and BS 476: Part 22: 1987 with the added feature of testing to 3000Nm of impact both before and after the tests.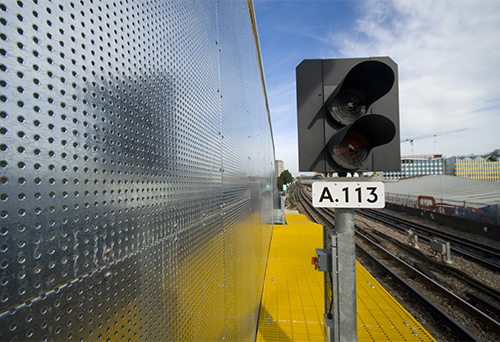 Design Considerations Durasteel® Fire Walls, Barriers and Partitions
Durasteel® Partitions
Depending upon its situation and function within a building, a wall may need to fulfil different requirements in the event of fire. Fire resisting walls used for partitioning buildings and enclosing compartments will be required to provide a barrier to the passage of fire from one side or the other or both sides. The wall must therefore be able to satisfy each of the relevant criteria (integrity, insulation and if the wall is load bearing – load bearing capacity) from either side for the prescribed period.
Factors for consideration when determining the correct specification to ensure a wall or partition will provide the required fire performance include:
Nature and thickness of facings
Studwork and fixings
Compartmentation at head of wall
Deflection
Partition length
Load bearing
Cavity insulation
Service penetrations
Light switches and electrical sockets
Fire doors and glazing
Protected zones
Concealed spaces
All such considerations need to be discussed with the project Fire Engineer.
Durasteel® External Fire Walls
The proximity of a building to the relevant (facing) boundary determines the probability of it being a danger to other buildings on adjoining sites or of it being at risk from a neighbouring building on fire.
Where the walls are required to provide fire resistance only from the inside, loadbearing capacity and integrity are required to be satisfied for the full period.
Satisfactory constructions will be very different from those required to maintain insulation for the full period and where fire resistance is required from either side.
The following points should be considered when determining the correct specification to ensure an external wall will provide the required fire performance:
Distance from the relevant boundary
External cladding
Structural steel
Single storey buildings
Cavity barriers
Thermal insulation
Impact resistance
Wind loading
All such considerations need to be discussed with the project Fire Engineer.
Features and Benefits of Durasteel® Fire Walls, Barriers and Partitions
A full range of systems available from 60 minutes structural integrity through to 4 hour structural and insulation integrity.
UK manufactured to independently accredited ISO 9001 quality, ISO 14001 environmental and OHSAS 18001 health and safety management systems
Tested with a range of service penetrations and fire doors
CERTIFIRE accredited
Classed as 'non-combustible' to BS 476: Part 4: 1970 and A1 to Clause 10 of BS EN 13501-1:2007
Provides between 30 minutes up to 4 hours fire protection
Insurance industry recognition
Impact, Blast & Vibration Resistant
Lightweight systems for internal and external application
Purpose built to meet the project design brief
Blast resistant, tested from 0.3 to 2 bar over pressure.
Resistant to hydrocarbon fires, tested to H120.
Impact resistant to 4000J after 180 minute fire test. In accordance with DIN 4102 Parts 2 and 3 requirements
High energy absorption.
Hose stream resistant to a 5 bar high pressure hose (ASTM E119).
Applications of Durasteel® Fire Walls, Barriers and Partitions
Contain fires in compartments of production and storage facilities.
Electrical plant rooms, fuel storage areas, boiler room enclosures, ceilings above lift shafts in offices, hotels, airports, retail complex's, public buildings and government institutions.
Nuclear power station, Oil & Gas & Mining infrastructures to resist hydrocarbon fires, blast, impact, water and corrosion in potentially hazardous environments.